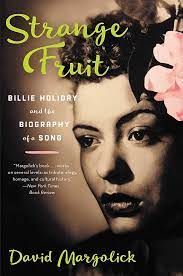 Strange Fruit
Recorded by jazz legend Billie Holiday in 1939, "Strange Fruit" is considered the first significant song of the Civil Rights movement and the first direct assault against racial lynchings in the South. First sung in New York's Café Society, these revolutionary lyrics have taken up a life of their own, as David Margolick discusses in his revealing account of the song and the struggle it came to personify.
Voted the "Song of the Century"" by Time, "Strange Fruit" is a searing evocation of lynching. And when Billie Holiday sang it, she held audiences in rapt attention, moving some to tears, others to anger, and all to a heightened awareness of the racist violence that was still, nearly a century after the Civil War, taking the lives of African Americans. Now, David Margolick's account cuts away the myths that have grown up around both Holiday and her most famous song, allowing readers to discover the true origins of "Strange Fruit"" and the circuitous paths it took to the center of a nation's conscience.
Margolick establishes the political and cultural context that surrounded "Strange Fruit" in 1939—a year in which there were three recorded lynchings and suspicion of many others, and which saw the publication of Gone with the Wind—and traces the song's journey through the red-baiting 50s and the incipient Civil Rights movement of the 60s, right up to the reverence it still inspires today. Along the way, Margolick includes commentary and reaction to the song from black and white audiences of different eras, and writers and musicians as varied as Lena Horne, Paul Robeson, Pauline Kael, Charles Mingus, Cassandra Wilson, Maya Angelou, among others.
Exploring the intricate nexus between jazz, race, and politics, Strange Fruit opens a window onto an extraordinary song, the woman who sang it, and the role it played in our culture's evolving consciousness of racism.