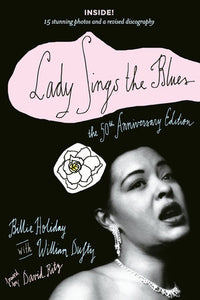 Lady Sings the Blues - The 50th Anniversary Edition
Perfect for fans of The United States vs. Billie Holiday, this is the fiercely honest, no-holds-barred memoir of the legendary jazz, swing, and standards singing sensation—a fiftieth-anniversary edition updated with stunning new photos, a revised discography, and an insightful foreword by music writer David Ritz

Taking the reader on a fast-moving journey from Billie Holiday's rough-and-tumble Baltimore childhood (where she ran errands at a whorehouse in exchange for the chance to listen to Louis Armstrong and Bessie Smith albums), to her emergence on Harlem's club scene, to sold-out performances with the Count Basie Orchestra and with Artie Shaw and his band, this revelatory memoir is notable for its trenchant observations on the racism that darkened Billie's life and the heroin addiction that ended it too soon. 
 
We are with her during the mesmerizing debut of "Strange Fruit"; with her as she rubs shoulders with the biggest movie stars and musicians of the day (Bob Hope, Lana Turner, Clark Gable, Benny Goodman, Lester Young, Coleman Hawkins, and more); and with her through the scrapes with Jim Crow, spats with Sarah Vaughan, ignominious jailings, and tragic decline. All of this is told in Holiday's tart, streetwise style and hip patois that makes it read as if it were written yesterday.
264 pages; Paperback; ISBN: 9780767923866
---
We Also Recommend