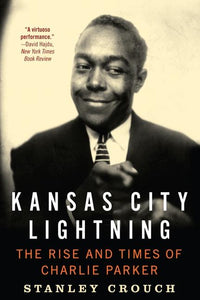 Kansas City Lightning: The Rise and Times of Charlie Parker
"A tour de force. . . . Crouch has given us a bone-deep understanding of Parker's music and the world that produced it. In his pages, Bird still lives." — Washington Post

A stunning portrait of Charlie Parker, one of the most talented and influential musicians of the twentieth century, from Stanley Crouch, one of the foremost authorities on jazz and culture in America.
Throughout his life, Charlie Parker personified the tortured American artist: a revolutionary performer who used his alto saxophone to create a new music known as bebop even as he wrestled with a drug addiction that would lead to his death at the age of thirty-four.
Drawing on interviews with peers, collaborators, and family members, Stanley Crouch recreates Parker's Depression-era childhood; his early days navigating the Kansas City nightlife, inspired by lions like Lester Young and Count Basie; and on to New York, where he began to transcend the music he had mastered. Crouch reveals an ambitious young man torn between music and drugs, between his domineering mother and his impressionable young wife, whose teenage romance with Charlie lies at the bittersweet heart of this story.
With the wisdom of a jazz scholar, the cultural insights of an acclaimed social critic, and the narrative skill of a literary novelist, Stanley Crouch illuminates this American master as never before.
400 pages; Paperback; ISBN: 9780062005618
---
We Also Recommend