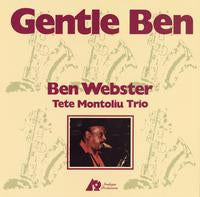 Gentle Ben/Ben Webster LP
That rich, humid, giant sax tone blooms like on few other Webster recordings
Mastered by Kevin Gray at Cohearent Audio
200-gram gatefold 45 RPM double LP pressed at Quality Record Pressings!

Praise for our 33 1/3 version of Gentle Ben
"The soundstage is intimate and inviting, Webster's horn beautifully captured with sweet, rich overtornes, the bass liquid, chugging, and textured, piano and drums easy and natural. As with each title, the music emerges from QRP's beautifully flat and wonderfully silent surfaces with that much more "there-ness." Sonics = 4/5; Music = 3.5/5 — Wayne Garcia, The Absolute Sound, January 2013
"...Webster's trademark sensual sound is on full display and, of course, he's backed by Montoliu, an outstanding Spanish piano veteran who accompanied all the great jazz artists passing through Europe...This is one of the first releases by Analogue Productions pressed at their new in-house pressing plant Quality Record Pressings, and the record bears a close resemblance in appearance to records from Pallas - beautiful looking and perfectly quiet...The superb 200-gram LP comes in a rice paper sleeve and jacket of heavy cardboard...Highest Recommendation." Recording = 10/10; Music = 8.5/10 — Dennis D. Davis, Hi-Fi+, Issue 81
This recording was made 10 months before Ben Webster's death in 1972. Webster, who had left the United States in 1965 to settle in Europe — first in Copenhagen and then in Amsterdam — was visiting fellow musician and friend Tete Montoliu in Barcelona. Webster and pianist Montoliu went back a ways, having played together regularly in Webster's Copenhagen days. In fact, Montoliu cited Webster and Don Byas as his two chief musical influences. Webster and Montoliu understood each other deeply, and their comfort with on another is palpable in this recording. Their accompaniment of one another is seamless. On board with these two is Montoliu's regular working trio-mates, Eric Peter on bass and Peer Wyboris on drums.

There's no shortage of Webster's trademark breathy, fat tenor tone here. In fact, given the sparse arrangement, that rich, humid, giant sax blooms like on few other recordings. Highlights include "Ben's Blues," "Sweet Georgia Brown," "The Man I Love" and "Don't Blame Me."
---
We Also Recommend