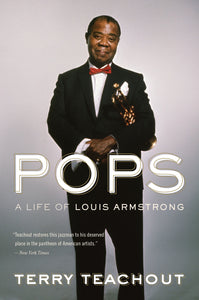 Pops: A Life of Louis Armstrong
Louis Armstrong is widely known as the greatest jazz musician of the twentieth century. He was a phenomenally gifted and imaginative artist, and an entertainer so irresistibly magnetic that he knocked the Beatles off the top of the charts four decades after he cut his first record. Offstage he was witty, introspective, and unexpectedly complex, a beloved colleague with an explosive temper whose larger-than-life personality was tougher and more sharp-edged than his worshiping fans ever knew.
Wall Street Journal critic Terry Teachout has drawn on a cache of important new sources unavailable to previous biographers, including hundreds of candid after-hours recordings made by Armstrong himself, to craft a sweeping new narrative biography. Certain to be the definitive word on Armstrong for our generation, Pops paints a gripping portrait of the man, his world, and his music that will stand alongside Gary Giddins's Bing Crosby and Peter Guralnick's Last Train to Memphis as a classic biography of a major American musician.
496 pages; Paperback; ISBN: 9780547386379 
---
We Also Recommend